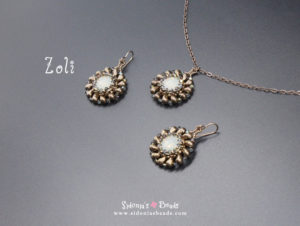 Hey there, beady friends!
Another beading project from me! I've finally tried the new Zoliduo bead. I only had a small package of them, as I only bought enough to try them out. Because of their shape, I thought they would look nice around a bezelled stone, so that's what I did.
The pattern works with one side zoliduos (either one). However, you could use both sides (one side per earring) and make a pair of specular earrings. 🙂
The component is quite easy and fast to do, so if you're in search of ideas for the Christmas gifts, this is one you should consider: I'm sure they'd be very appreciated gifts.  🙂
To go to the tutorial page, click on the picture.
Happy beading! ❤