Hello, dear beady people around the world!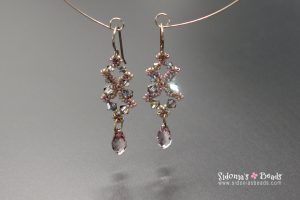 I've made a lovely necklace that looks very much like a beaded butterfly chain. I've only used Miyuki round 15/0s and Swarovski bicones. 🙂 And of course I've also made a pair of matching earrings!
The whole chain is made with 15/0 round seed beads from Miyuki and 3mm Swarovski bicones: I really love how it turned out! To see more pictures, click on the pictures to go to the tutorial page.
Happy beading! ❤